Our Mission:
 To provide comprehensive management to donors whose desire is to support projects that improve the grooming, hygiene and well-being of target populations who lack access to regular personal care products and services.
2018 PROJECTS
#1 DREW HALL BARBERSHOP PROJECT
You can make a pledge to assist us in our role of providing regular barber supplies and general maintenance to the barbershop located in the Drew Hall dormitory. Drew Hall is located on the campus of a historically Black college/university. The barbershop provides no-charge haircuts to resident-students who lack access to regular grooming services. Please place "DHB" in the memo section when making your pledge. Thank you!
2018 Fundraising Goal: $26,664

2018 Project Underwriters
2017 Project Underwriters 
The Meltzer Group 
Sheila Moody
Kittamaqundi Community Inc.
Redeeming Love Christian Fellowship
Jeffery McCoy
Charles & Deborah Gideon
Bill & Mary Chewning
William Mustin III
Sarah Pleban
Louise DeJesu
Lisa Riley
Franklin Lance 
---
#2 HAIRCUTS FOR THE HOMELESS PROJECT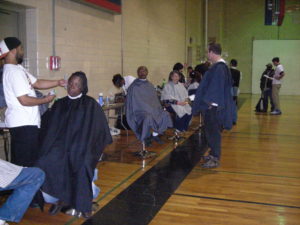 Help underwrite this years' cost to hire barbers to provide no-charge grooming services to children and adults who are currently experiencing homelessness (one pre-selected agency annually )
Fundraising Goal: $1,750

Be sure to list "Haircuts for the Homeless Project" in the memo section
CURRENT PROJECT UNDERWRITER(S):
---
#3 GROOMING PROJECT
TBA

Thank you for your support!
---
#4 GROOMING PROJECT
TBA