Our Mission:
 To provide comprehensive management for donors whose desire is to support projects that improve the grooming, hygiene and well-being of target populations who lack access to regular personal care products and services.
AS OF YEAR-END 2019…
Number of projects performed to date: 33
Number of  individuals served: 15,168
Number of haircuts performed: 19,482
Number of hairstyles performed: 3,049
Number of other grooming services performed: 2,928
Number of individuals able to attend their job interviews with a neat and clean appearance: 3,972
Number of individuals able to attend their new place of employment with a neat and clean appearance: 3,345
Number of individuals able to attend school with a neat and clean appearance: 7,274
OPERATING PROJECTS SINCE MARCH 2000!
---
2020 PROJECTS
HairAid Project 

Hair Aid Inc. (Australia)  and Rob's Barbershop Community Foundation (USA) would like to announce their partnership which supports the work Hair Aid Inc does, teaching people living in critical poverty, and women rescued from the sex trade, drug lords, and critically violent situations, basic hair cutting skills.  Women learn these skills, and then they are provided a small toolkit, which allows them to create their own micro business.  This means they have a pathway out of poverty, away from crime and violence, and control of their own lives.
This valuable partnership between Hair Aid and Rob's Barbershop Community Foundation means that donations from the United States manufacturers and companies can now be facilitated and managed through an official fiscal Sponsorship Agreement, which will increase opportunities for donations, resources, as well as the repurposing of valuable tools.
*DONT FORGET TAG YOUR DONATION  "HAIR AID" IN THE MEMO BOX WHEN MAKING YOUR GIFT
If you are participating in the Global Cut-A-Thon please list the name in the memo section

---
NATIONAL ACADEMY GROOMING PROJECT

RBCF is pleased to announce the start of our 12th barber/beauty salon installation created exclusively for populations lacking access to regular grooming services. Help us to maintain operations of the 5 station barber/beauty salon installed at National Academy Foundation; a grade 6 through 12 public school in Southeast Baltimore. We assessed that 260 (or 26%) of next years' student population will lack access to regular grooming services. Twenty-three percent of their student population will, in fact, reside in group homes/foster or kinship care.
Please place "NAF" in the memo section when making your pledge. Thank you!

Project Underwriters
Helen J. Serini Foundation, Joann R. Price, Sheila Moody , William Mustin III, Kittamaquandi Community Inc., Jeffery McCroy, Sarah Pleban, Charles & Deborah Gideon, Mary McManus, T Rowe Price Foundation, Bryan Wichelman
---
MACARTHUR MIDDLE SCHOOL GROOMING PROJECT
RBCF will be installing a full-service barber & beauty salon onsite at MacArthur Middle School. Located in Ft. Meade, Maryland this project was initiated when we assessed that 200 of the 950 students lacked access to regular grooming services.

Project Underwriter 
The Meltzer Group
Rodney Farmer Sr.
---
THE HOMELESS GROOMING PROJECT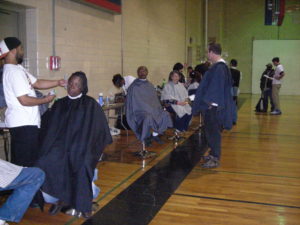 Help underwrite this years' cost to hire barbers to provide no-charge grooming services to children and adults who are currently experiencing homelessness (one pre-selected agency annually )

Be sure to list "Haircuts for the Homeless Project" in the memo section
CURRENT PROJECT UNDERWRITER(S):
Walmart Store #3490
Sam's Club Store #6357
---
BSU GROOMING PROJECT
RBCF acts as project management to a full-service grooming center onsite at the Student Center on the campus of Bowie State University. The onsite grooming center allows all students a community space to provide grooming services to their fellow classmates
---
#WahlStar Grooming Project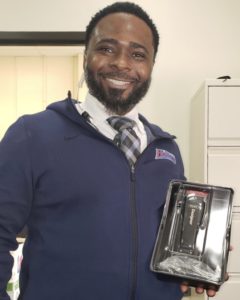 RBCF honors individuals who provide no-charge grooming services to underserved populations with a free Wahl brand high-quality clipper for each month of 2020
---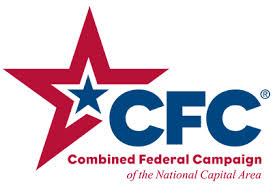 #24145

#52-230160