Our Mission:
 To provide comprehensive management to donors whose desire is to support projects that improve the grooming, hygiene and well-being of target populations who lack access to regular personal care products and services.
AS OF 2017…
Number of projects performed to date: 24                              Number of  individuals served: 11,901
Number of haircuts performed: 15,578
Number of hairstyles performed: 2,975
Number of other grooming services performed: 2,586
Number of individuals able to attend their job interviews with a neat and clean appearance: 3,863
Number of individuals able to attend their new place of employment with a neat and clean appearance: 3,163
Number of individuals able to attend school with a neat and clean appearance: 6,626
---
2018 PROJECTS
#1 DREW HALL BARBERSHOP PROJECT
You can make a pledge to assist us in our role of providing regular barber supplies, personnel and general maintenance to the barbershop located in the Drew Hall dormitory. Drew Hall is located on the campus of a historically Black college/university. The barbershop provides no-charge haircuts to resident-students who lack access to regular grooming services. Please place "DHB" in the memo section when making your pledge. Thank you!

2018 Project Underwriters
Jeffery McCroy
2017 Project Underwriters 
The Meltzer Group 
Sheila Moody
Kittamaqundi Community Inc.
Redeeming Love Christian Fellowship
Jeffery McCroy
Charles & Deborah Gideon
Bill & Mary Chewning
William Mustin III
Sarah Pleban
Louise DeJesu
Lisa Riley
Franklin Lance 
---
#2 HAIRCUTS FOR THE HOMELESS PROJECT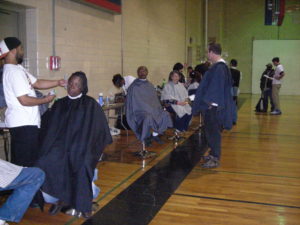 Help underwrite this years' cost to hire barbers to provide no-charge grooming services to children and adults who are currently experiencing homelessness (one pre-selected agency annually )
Fundraising Goal: $1,750

Be sure to list "Haircuts for the Homeless Project" in the memo section
CURRENT PROJECT UNDERWRITER(S):
---
#3 MCVET GROOMING PROJECT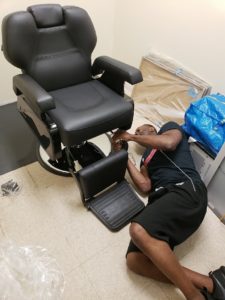 The RBCF will install its next full-service barber/beauty salon at the Maryland Veterans Education & Training (MCVET) located in Baltimore City. MCVET is a 175 bed transitional and drop-in facility that exclusively for military veterans who are experiencing homelessness. The project was developed when we assessed that 100% of the MCVET clients (male & female) lacked access to regular grooming services. An 80% to 100% reduction in the lack of access to grooming for its clientele is the targeted outcome for the barber/beauty salon installation. Installation is set to begin in the Spring of 2018.
2018 Fundraising Goal: $29,610

Thank you for your support!
Current Project Underwriters:
HELEN J SERINI FOUNDATION
T47 INTERNATIONAL
MIKE DAVEY CHARITABLE FUND
REDEEMING LOVE CHRISTIAN FELLOWSHIP
CLARENCE & GLORIA WAYMAN
SARAH PLEBAN
JEFFERY McCROY
B.K. SIMON FAMILY CHARITABLE FOUNDATION
---
#4 THE CLIPPERS FOR A CAUSE PROJECT 2018

The RBCF awards free Wahl Tapering Clippers to barber and beauty school students who volunteer their time providing no-charge grooming services to individuals experiencing homelessness or enrolled in college/university. Help us cover the cost of shipping and project management by donating using the button below!